DESTRUCTION, DIVERSION, DEFORESTATION, DEVELOPMENT, DIKING, AND DRAINING
Drained
Over many years, as areas have become populated with human beings that did not realize the significant and important value of wetlands, the wetlands were drained for roads, railroads, industry, cropland, housing, cities, and for controlling mosquitoes.
The natural lands and wetlands were "developed."
Natural wetlands
Coastal (salt water)
Inland (fresh water)

Satellite view of heat coming from dense development along a coastline
Diverted
Wetland waters were also diverted via man-made canals to other areas for agricultural use and to send to cities which kept growing larger and larger.
Alteration of the natural water systems in Florida
Picture credits: South Florida Water Mgmt Dist

Every home on a waterway

Converted
Some wetlands were converted to aquaculture for controlled growing of fish, shellfish, mollusks (oysters, mussels, clams), crustaceans (lobsters, shrimp, crabs), and seaweed.
Natural habitats were polluted and destroyed
DESTRUCTION OF HABITAT AND PLANT SPECIES
Trees and shrubs in mangrove swamps have been cut down, and whole ecosystems changed for aquaculture. With the root systems of water plants and woody plants gone, coastal soils have eroded and been washed away. In some areas, mangrove forests have been completely cleared and totally destroyed for urban development.
Mangrove swamps are saltwater swamps that lie along tropical and subtropical seacoasts.
Mangrove forests provide a great variety of important functions that help maintain a healthy
coastal area.
Mangroves provide a multitude of vital and complex services, such as:

- Protect coastlines during severe weather
- Prevent erosion of soil from wave action
- Filter chemicals and nutrients in water
- Nursery for fish, crustaceans, and shellfish
- Provide nesting areas for birds
- Habitat and shelter in roots and branches
- Reduce damage from floods
- Mangroves are very important to major food
webs in coastal communities.

Their unique root systems keep the soil from being washed away by waves during storms.

This picture explains why these mangroves are known as "walking trees."


Most tropical countries have lost more than half of their mangrove forests to logging, urban development, or conversion to rice fields, cropland or fish-farming ponds.
DESTRUCTION FROM DEFORESTATION AND DEVELOPMENT
Commercial deforestation and development in wetland areas have resulted in significant declines in habitat, species populations, and critical ecosystem functions. This destruction continues in unregulated regions of the world.
TOXIC POLLUTION OF WETLANDS AND WILDLIFE
Along with the destruction of wetlands, human beings added pesticides and pollution, so over the years wildlife and bird populations greatly declined.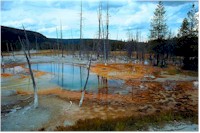 DECLINE OF WATER SOURCES AND WETLANDS FUNCTIONS
Critical water changes occurred with alteration of wetlands; water tables dropped and wetland vegetation water filtration was no longer available to purify the wastes of civilization.
Loss of water from various changes, led to inability of wetlands areas to maintain through normal dry periods.

Picture credit: South Florida Water Management District
CHANGES TO ECOSYSTEMS AND WEATHER
In some areas, weather even changed. As the wetlands were converted for all the various reasons, natural wetland ecosystems drastically changed or disappeared entirely.
Many species were left without life-support systems.

Great Blue Heron
in dried-out canal
Credit: South Florida Water Mgmt Dist

Great Blue Heron
Click on picture on left side to enlarge it
Click on link to learn about this species
DECLINE AND LOSS OF NATIVE AND MIGRATORY SPECIES
Some resident native mammals, nesting birds, amphibians, insects, reptiles and organisms which inhabited the wetlands have been lost or seriously impacted.


Flamingos




Migrating birds in great numbers had to fly farther and longer looking for other wetlands, as their food sources were no longer available to them for their long flights. Flamingos have been known to fly up to 373 miles (600km) each night to get to another wetland habitat


Young Okeechobee Gourd Plant


Young Egrets

Some species are unable to leave when their habitats can no longer support them - such as crawling insects, plants, flowers, and young wildlife.
DISPLACEMENT OF PEOPLE
People who lived in wetland areas no longer had the natural wetlands as sources of food for themselves and their families, and as sources of income - so they had to move away.
Ecosystems and species became "at-risk"
Along with the losses of natural habitat, native and migratory species, wetland ecosystem functions, and the displacement of people - many areas also lost much of the natural protections that had been provided by barrier islands and various types of natural wetlands (i.e., the loss of spongy soils, marsh grasses, forests, and root systems of coastal and inland aquatic plants).


With many of the natural protections and buffers gone,
the lands were left more vulnerable to damage from
severe weather, floods, tsunamis, and hurricanes.
Click into the links below to read about what happened to two major wetlands systems in different parts of the world. Both of these wetland ecosystems had evolved over thousands of years, building up resistance for survival (as species do over long periods of time). Then humans began changing nature's good works to meet their growing needs, and the wetlands were weakened and left more vulnerable. We are now learning better ways to meet humanity's needs, while taking care not to disrupt the natural environmental systems. This is what we have to do - Earth's natural systems support life!

The Mighty Forces of Nature

HURRICANE !
DROUGHT

Immediate fierce swift-moving danger

Long-term, persistent environmental decline