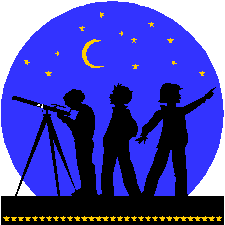 COSMIC LAWS LIKE SPEED OF LIGHT MIGHT BE CHANGING
AMAZING SPACE
Space Telescope Science Institute's education page. Online activities and tools for educators.
Explore the universe through the Hubble Space Telescope.
How brave are you? A black hole needs to be investigated.
Dare you enter?
AMERICAN MUSEUM OF NATURAL HISTORY
ROSE CENTER FOR EARTH AND SPACE
Featuring the new HAYDEN PLANETARIUM (the largest and most powerful virtual reality simulator in the world), Cullman Hall of the Universe (Discoveries), Heilbrunn Cosmic Pathway (Timeline), Scales of the Universe, and Gottesman Hall of Planet Earth (Earth's dynamic processes). Weekly Space Watch, downloadable desktop backgrounds.
CHANDRA X-RAY OBSERVATORY
X-Ray Astronomy. NASA's newest Great Observatory is the world's largest and most sensitive X-ray telescope and a spectacular scientific achievement. Astronomers are astounded by its x-ray images, which are of comparable quality to optical images.
CHANDRA NEWS

CNN TECHNOLOGY/SPACE NEWS
COMETS AND METEOR SHOWERS
Differences between comets, meteors and asteroids. Comet primer, observations, calendar, glossary, information, links and movies.
THE HUBBLE SPACE TELESCOPE PROJECT
From Goddard Space Flight Center
COSMIC KIDS (NASA SITE)
EXPLORATORIUM OBSERVATORY
Astronomy educational site with projects, exhibits and resources.
(A program of the The Exploratorium Museum of Science, Art and Human Perception, San Francisco)
IMAGINE THE UNIVERSE! (NASA)
A cosmic journey of exploration into the mysteries of our universe.
Learn about cosmic objects and find out what mysteries astronomers and astrophysicists are investigating right now.
Special features, satellites and data, exhibits, videos, interactivities,
and resources. Ask a High Energy Astronomer section contains a Library of Past Questions and Answers. (level: age 14 and older)
MARS EXPLORATION
Earth has many bizarre and amazing forms of life; and untold species exist that haven't been discovered yet. Life on Earth requires basic needs that life in non-Earth environments may not need to survive.
Mars for Kids - Travel hundreds of millions of miles and go on a Mars Adventure. Take a Martian tour, and learn more about Mars through classroom challenges, games and activities provided.
NASA FOR KIDS
Want to know what to avoid if you ever want to explore space or work for NASA? Explore space - not drugs!
NASA for Kids provides links to sites about Airplanes, Earth, Planets, Space Travel, Stars and Galaxies, and lots more. Also click into links in left frame for Earth Science, Space Science, Educational Resources, and More About NASA.
NASA'S GODDARD SPACE FLIGHT CENTER
"To understand and protect our home planet, to explore the Universe and search for life, to inspire the next generation of explorers"
NASA'S LIBRARY
The Aeronautics and Space resource for education.
NATIONAL SPACE SCIENCE DATA CENTER (NSSDC)
Provides access to a wide variety of information.
SKY AND TELESCOPE
For amateur and professional astronomers. Online information available: Current News, News Archive, AstroAlert, Special Reports, Sky at a Glance, Astronomy Online column, Tips for Stargazers, Imaging, Resources, and Links. Click into this site and find out "what's up?"
SPACE.COM
Science, astronomy, missions/launches, images, maps, virtual tours in space. Space-related news, information, education and entertainment - focusing on mathematics and natural sciences, grades K-12. Browse through links and check out SpaceKids.
SPACE TELESCOPE SCIENCE INSTITUTE
The Space Telescope Science Institute (STScI) is the astronomical research center responsible for operating the Hubble Space Telescope as an international observatory.
SPACEWEATHER.COM
Science news and information about the Sun-Earth environment
STAR CHILD (NASA)
A Learning Center for Young Astronomers (grade school level)
STUDENTS FOR THE EXPLORATION AND DEVELOPMENT OF SPACE
STUDYING EARTH'S ENVIRONMENT FROM SPACE
Educational site for high school and college instructors and students, developed by NASA.
THE EXPLORATION OF THE EARTH'S MAGNETOSPHERE
Magnetism; Electrons, Ions and Plasmas; Radiation Belts; The Sun and the Solar Wind; Exploring Earthspace; The Dynamic Magnetosphere.
Sequence of topics gives a complete self-contained course if you seek to educate yourself about space. (NASA site)
THE EXTRASOLAR PLANETS ENCYCLOPEDIA ((Harvard)
Astronomers reference material
THE NINE PLANETS
A multi-media tour of the Solar System. Take a scroll down the main page and see what wonderfully interesting information is offered on this site. Then back to the top and start your tour in Introduction. You will see "out-of-this-world" imagery which will transport you out into space. For a quick tour click on Express Tour and then each planet. And when you have more time, come back to this website and scroll down the main page links.
THE NINE PLANETS - JUST FOR KIDS
Bright, beautiful and written for children from the original material on the above site, The Nine Planets. Be sure to visit both Nine Planets sites because you may discover that there really is life out there!
THE WEB NEBULAE
Spectacular images of the universe.
2MASS
Near-infrared images from 2MASS, an all-sky survey. Zillions of stars, galaxies and nebulae. 2MASS uses two new, highly-automated 1.3-m telescopes, one at Mt. Hopkins, Arizona, and one at CTIO, Chile. Click on About 2MASS in upper left. See the image gallery.