BARATARIA-TERREBONNE NATIONAL ESTUARY
The 4.2 million acre Barataria Basin and Terrebonne Basin system of the Gulf Coast Region supports wildlife habitat for approximately 735 species of native and migratory birds, fish, shellfish, mammals, reptiles, and amphibians. The area is also home to a unique culture and people whose way of life was born out of these wetlands.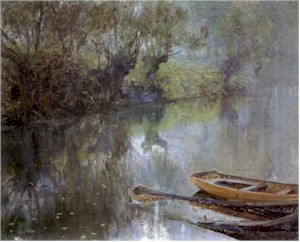 Home to a great variety of species
and a unique culture of people
Over many years, the Barataria-Terrebonne National Estuary suffered losses to wetlands habitats and ecosystem functions from erosion, sediment loss, sea-level rise, salt water intrusion, canal dredging, and construction and changing of the natural flow of the Mississippi River. The wetlands formerly were naturally replenished year after year from sediments carried in the mighty Mississippi River from up north to be deposited before reaching the sea. But, after much human re-engineering of the natural water system, those sediments were sped along man-made navigation channels straight out to the deep waters of the sea. Known as "The Brown Marsh," no other place on Earth was disappearing as quickly as the Barataria-Terrebonne, due to changes in waterflow, sediment reduction, habitat loss, over-abundance of nutrients in water, bacterias and viruses in water, toxic chemicals in water, and changes in the living resources (birds, fish and other animals). Plans were being laid for restoring the coastal Louisiana wetlands systems and strengthening protective areas. Various proposed projects were being studied and considered, and funding for such a massive undertaking was being sought.
But the rebuilding did not come soon enough...and a mighty force of nature was on the way.

Hurricane !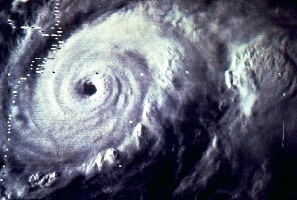 Taken from Satellite, looking down into the
eye of the hurricane as it rages towards land
In August and September of 2005, long-feared catastrophic damage from hurricane winds and resulting storm surges and flooding caused devastating damage to America's southeastern states in the Gulf Coast Region; particularly Louisiana, Mississippi and Alabama. During this period, the Barataria-Terrebonne estuarian system in south Louisiana was severely impacted from the storm-related destruction of "Katrina" and "Rita" - two major hurricanes in one month's time.
Lost to the ravages of the storm and resulting floodwaters were whole fishing villages, rice and sugarcane fields, shrimping ports, ranches, pasturelands, cities, towns, rural areas, businesses, industry; and further substantial loss of species, plants, grasslands and trees. Coastal habitat was destroyed. Saltwater from the Gulf of Mexico raced inland from the storm surge and freshwater species died as a result. There was nothing to stop the waves from their destruction. Also carried in those waters were the sewage, oil, chemicals, industrial waste, and toxins that were spilled or released from their containments. The hazardous contaminants permeated everywhere, and were carried both out to sea and inland. What remained in many neighborhoods were bricks, splinters, muck, flood waters, and toxins - making areas unlivable. Hundreds of thousands of people were left homeless, and most tragic was loss of life.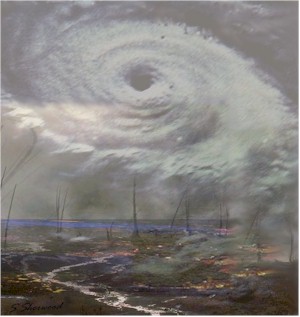 "Aftermath of Destruction"
Graphic: S. Sherwood
Images of CATASTROPHIC Damage - After you see the devastating and heartbreaking pictures of the massive damage caused by the forces of these storms and floodwaters, please keep our friends in the Gulf Coast states in mind as they go through a very long period of recovery. Hurricane Katrina has left nearly a million people displaced, thousands of homes and businesses destroyed, and, worst of all, people wounded, missing, or dead. Thousands have lost their family homes, incomes, and belongings dear to them; and some have lost loved ones.
Please offer your help and friendship by donating as much as you can. Ways you can help get involved in relief efforts, or donate to credible relief organizations may be found on How Can I Help? on the Barataria-Terrebonne National Estuary Program site. Holiday times and special occasions (such as faith-based holidays and gatherings, weddings, birthdays, anniversaries, and such) are also times when we need to remember others who are less fortunate and in dire need. You can turn these good thoughts into action and help by sending donations to official, credible, charity organizations. Please visit the Help link and contact one of the organizations listed. Helping others is also a gift to ourselves - good medicine for the soul.
The Barataria Terrebonne Estuary
Definition of an "estuary," and map of the Barataria Terrebonne system
"Louisiana coast no longer as nature intended" (USA Today, 10/2/05)
Barataria Terrebonne National Estuary Program
Hurricanes - A Fierce Force of Nature (NASA)
Learn how hurricanes are created. Interactive cross-section of a hurricane shows an anatomy of the dynamics of a hurricane.
Closeups of Katrina at her meanest (NOAA hurricane hunters)
Katrina Coming Ashore on August 29, 2005 (Photo: USAF)
"Oil Spills from Hurricanes Staining the Coast" (ENN, Houston Chronicle article 11/14/05)
More than a stain - a major environmental disaster
"Gone with the Water" - Feature story from National Geographic almost one year prior to the August and September 2005 hurricanes of the Gulf Coast.
"When you look at the broadest perspective, short-term advantages can be gained by exploiting the environment. But in the long term you're going to pay for it."
Joe Suhayda, Engineer
Louisiana State University
Louisiana Wetland Plant and Animal List (scroll 3/4 way down the page)
Educational materials are available by contacting the Estuary Program.