HUMAN IMPACT ON OCEANS
July 15, 2006
"Unprecedented win" for
ocean habitat and marine species!


84 million acres of important ocean habitat
have been designated as protected and set aside
as the United States' 75th national monument.
Find out more on our Ocean Home page.
POLLUTING THE OCEAN WATERS AND SHORELINES
Acid rain from above and toxic waste from below.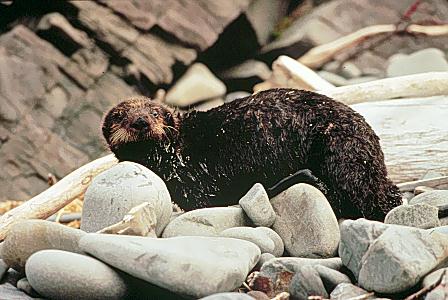 STUDIES SOUND ALARMS FOR
DESTRUCTIONS OF ANCIENT ECOSYSTEMS
AND EXTINCTIONS OF MARINE SPECIES

A SEA OF TROUBLES

Abandoned Seas:
Reversing the Decline
of the Oceans
Worldwatch Paper 116

Safeguarding the
Health of Oceans
Worldwatch Paper 145



Waste disposal
Courtesy of the Great Barrier
Reef Marine Park Authority


THE OCEAN IS OUR PLANET'S LIFE SUPPORT SYSTEM

Why do we treat it as a Global Garbage Dump?

POLLUTION

The ocean absorbs a great amount of carbon dioxide and pollutants, but pollution levels of our whole Earth system are reaching beyond carrying capacity. As human population has increased, so has the deterioration of the world's ocean ecosystems.

Two thirds of the major cities in the world are situated along coasts, and millions of people vacation at shorelines. Pollution from developed areas drains into the ocean killing marine life, threatens human health, causes toxic algae blooms, and forces beach closures. Human pollution is destroying coral reefs and coastal habitat which are vital for breeding, food and shelter for marine species. Vast amounts of pollution are draining into our ocean waters daily from human-related activities. Ocean currents can carry pollutants far from the source of entry, and species consume and absorb them. Pollutants have caused major declines in species, and are threatening the planet's ecological stability; and therefore, our life support system.

Sewage, toxic chemicals, pulp mill and manufacturing wastes, fertilizers, soaps, detergents, litter and refuse disposal, radioactive wastes, plastics, oil spills and leaks, runoff, and insecticides are contaminating our ocean and freshwater sources on a daily basis - far in excess of what the natural filtering and recycling systems can sustain. As some hazardous chemicals are banned worldwide and/or locally, many other new chemicals are developed that continue the harm.



Garbage and litter
Courtesy of the Great Barrier
Reef Marine Park Authority


Pollution in the air and water


CARBON EMISSIONS ARE

POLLUTING THE OCEAN
DEPLETING THE OZONE LAYER
CAUSING GLOBAL WARMING
AND DESTRUCTION OF SPECIES

Excessive carbon in the atmosphere from the burning of fossil fuels over the last two centuries has caused increased acidity in our oceans, which is threatening ecosystems, sea creatures and their food supplies. These rising levels of acidity, along with the effects of global warming, could affect the ability of the oceans to absorb greenhouse gases. Ocean acidification has already increased the acidity of the world's oceans to a "level that is irreversible in our life times." A report from the Royal Society, the UK's leading scientific academy, is calling upon world leaders to commit to immediate and significant reductions in carbon dioxide emissions.
Carbon emissions threaten sea life (CNN, 7/5/05)
Ocean acidification due to increasing atmospheric carbon dioxide
(The Royal Society, 6/30/05 Report)

Continued depletion of the ozone layer in the upper atmosphere (from chemicals released by human actions on Earth) could cause a drastic decline in the world's oceanic plankton. Plankton are tiny organisms floating in vast numbers in the ocean which are the first link in providing food supporting marine/sea life. With less protection provided by the ozone layer, more harmful ultraviolet radiation reaches the Earth. A decrease in plankton would lead to a domino effect throughout the aquatic food chain, and severely impact all aquatic species and marine wildlife.





The Ocean Conservancy's 2002 report on how cruise ships affect the marine environment concluded that environmental regulations needed to be adopted to stop the violations and lessen the harmful impact of destruction to the marine environment . (68 page pdf file)
The Conservancy has since worked collaboratively with members of Congress to draft the Clean Cruise Ship Act of 2004.


"FLOATING CITIES"
ARE POLLUTING THE OCEANS

Imagine the cumulative effect of what gets dumped into the sea from ships that carry 4,500 passengers. They are like huge floating cities 10 stories high. If you calculate 600,000 passengers in just one summer season cruising the Alaska's Inside Passage dumping 200,000 gallons of wastewater daily - that's millions of gallons a year. There are many cruise ships throughout the world's waters, all contributing to the massive amounts of pollution impacting ocean health and species. Ships are transporting non-native species and pathogens in their ballast waters and discharging them in waters at destination ports. These exotic species can take over the native species and cause catastrophic changes in marine ecosystems and biodiversity. Many cruise ships fly under "flags of convenience," registering the ships under a variety of foreign countries that have little or no environmental regulation or enforcement of pollution control. Major cruise lines have been fined millions of dollars for falsifying records, installing illegal bypass lines, and dumping oil, sewage, garbage and hazardous toxic wastes into our oceans and waterways.

San Francisco Bay has been invaded by Chinese mitten crabs (that clog irrigation and drinking water pipes), and Asian clams (that consume large amounts of plankton which other marine species depend upon). These destructive species and others have come into the Bay from ballast water that has been dumped by ships coming into port, and cost more than $40 million in damage every year.
But, the -- is that U.S. District Judge Susan Illston has ordered that ships can no longer dump ballast water with invasive species in U.S. waters without a permit. Read about this "slam dunk for healthy oceans." Watch an interactive show on Alien invaders and see if you have seen any of these destructive species. (MSNBC, Ruling could curb invasive species via ships, April 1, 2005)

Cruise Ship Fast Facts (The Ocean Conservancy)

Before you take a cruise, ask the cruise line whether or not they support the Clean Cruise Ship Act of 2004.



click to enlarge and
read important message!


USFWS/P. Martinkovic
click to enlarge
Death due to plastic holder

MARINE DEBRIS PHOTOS
Posted on the Hawaiian Islands
Humpback Whale National
Marine Sanctuary site


PLASTIC DEBRIS AND NETS
ARE DESTROYING WILDLIFE

Wildlife are dying from litter and uncontained trash improperly discarded by humans. The gull in the picture to the left starved to death because it became entangled in a plastic container holder that holds canned drinks, such as sodas and beer. Holders such as these should be cut up before properly disposing of them. It is best to remove them and not take them out into nature.

Marine animals sometimes mistake debris for food and swallow it or become caught in it and die. Debris and trash can be carried downstream in rivers endangering all aquatic life on its way to the sea where it will drift through the ocean currents for years and years. Plastic floating in the ocean can resemble jellyfish. Many leatherback turtles die from ingesting plastic bags which they mistake for their favorite food, jellyfish. The leatherback is listed on the U.S. Endangered Species List as endangered worldwide. (see our Endangered Species page)

Of the approximately 7 billion tons of litter that enters the world's oceans each year, about 60 percent is of a plastic composition (Plastics include bags, bottles, strapping bands, sheeting, synthetic ropes, synthetic fishing nets, floats, fibreglass, piping, insulation, paints and adhesives). These items can last for 10-20 years before finally decomposing. It is estimated that 1 million seabirds and 100,000 other marine animals, including endangered species, die as a result of having swallowed plastic litter or been caught in it.
"A Gutful of Plastic" - ReefEd tells us that when a rare Bryde's whale died in 2000, examination of its stomach showed compaction from plastic sheets, bait bags, zip top bags, fertilizer bags, plastic strip, supermarket bags and frayed rope pieces.

Lost and discarded fishing lines and nets cause terrible wounds and suffocation to sea animals. Huge "wall of death" driftnets have entrapped mammals as large as whales and cut into them down to the bone, causing a long painful death from wounds and suffocation. Millions of dolphins have drowned in fishing nets that are set out to catch other fish. These huge fishing nets capture, injure and kill an enormous amount of sealife of all varieties which can't be sold for human food, and the bodies are just tossed back into the ocean.

Planting Plastic in Puget Sound!

| | |
| --- | --- |
| | |
| From this! | To this! |

Just when you thought you had seen everything.
Have a closer look at what's happening in the Seattle area


Mud dispersal from bottom trawling
Courtesy of the Great Barrier
Reef Marine Park Authority

New Scientist (2/26/02)
Coral reefs older than the Pyramids
are being ripped to shreds.

The Director of the World Wide Fund for Nature's North East Atlantic Programme stated, "These magnificent coral reefs should be off limits for fishing."

CNN
Uncertain future for the world's coral reefs - and marine species. Study names Top 10 coral hot spots. See pictures of scraping away the ocean ecosystems.

Endangered Reefs (Eco-Pros)


TRAWLING AND DREDGING

CLEARCUTTING THE OCEAN FLOOR !

Healthy seafloor communities are crucial to maintaining biodiversity in the ocean, yet unregulated trawlers drag huge heavy nets, chains and gear along the bottom of the ocean floor scraping away all life forms and habitat, and destroying vast ecosystems. Ocean bottom inhabitants and marine ecosystems are ripped up, crushed, exposed, and buried, leaving the seafloor looking like an underwater desert. What took centuries, and in some areas thousands of years, to develop is swept up and totally destroyed by one pass of a fishing trawler. Sea corals provide critical habitat for fish and other organisms in marine ecosystems. As much as 70 percent of sealife scraped up in the nets is not "usable" or sought by the trawlers. These dead and dying "non-target" fish and marine animals are tossed back into the ocean. This is referred to as "bycatch," and "trawler trash." Bottom trawling is believed to have caused the decline of major fisheries. Read more about harmful fishing methods in the links provided here and on Endangered Reefs and Great Links pages.

"Hoovering" the Ocean
Trawling the ocean bottom is like vacuuming up all life
and the habitat which supports life under water.

According to the Food and Agriculture Organization of the U.N., indiscriminate fishing practices kill and waste between 18 and 40 million metric tons of "unwanted" fish, seabirds, sea turtles, marine mammals, and other ocean life annually - fully one-third of the world catch.

MARINE SCIENTISTS CALL FOR URGENT PROTECTION OF UNIQUE ANCIENT DEEP-WATER CORAL REEFS

Deep-water coral systems are being reduced to rubble by heavy towed fishing gear in the Northeast Atlantic.

Surviving in the frigid dark waters, these specialized slow-growing corals have formed reefs over thousands of years which give crucial support to hundreds of other species, including valuable fish stocks.

New evidence has shown extensive damage to these recently discovered reefs caused by widespread trawling. Dr. Jason Hall-Spencer, and his colleagues videotaped trawled reefs which were left looking like clear-cut forests. The investigative team carbon dated broken coral brought up by trawler's nets fixing the age at 4,500 years old or more. These significant scientific findings were reported in the Proceedings of the Royal Society, UK.


Aerial view of trawler
Courtesy of the Great Barrier
Reef Marine Park Authority


USFWS/Robin Hunter
click to enlarge





© Foto Clipart

There has been a 90% decline in Horseshoe Crabs due to overfishing. Horseshoe crabs are crucial in providing a food source (crab eggs) for shorebirds migrating from South America to the Arctic Circle. They are also a vital component in medicine which saves many lives.


Marine Conservation
Biology Institute
Read about the types of destructive fishing equipment and the complex habitats and species that are being destroyed.


PIRACY ON THE HIGH SEAS

Looting the oceans is netting vast sums of money for those countries/industries/individuals that care more about their own greed than they do the global environment or species survival.

HIGH SEAS TASK FORCE FORMED
"PIRATE TRAWLERS FACE CRACKDOWN ON OVERFISHING"
World Conservation Union reports "Illegal, unreported and unregulated fishing is now a planet-wide scourge." A High Seas Task Force has been formed to detect illegal piracy and exploitation of the world's fish stocks using Global Information System tracking. Initially composed of 6 governments and 3 conservation organizations, the task force plans to identify, apprehend and sanction deep-sea pirates. (ENN, 3/6/06)

Profiting from plundering endangered species of the ocean
Guardian Unlimited

OVERFISHING and "Dirty" Fishing

Harpooning the Whale Ban
A YEN FOR PROTECTED SPECIES
Protected whale species are still being hunted and killed
Read: "Awash in whale, Japan can't eat it all" (MSNBC, 2/9/06)

Alaska Oceans Program
Overfishing occurs when the quantity of fish harvested exceeds the amount that can be re-supplied by growth and reproduction.

Factory ships from around the world haul fish out of the ocean in huge quantities.

Factory Fishing (BBC article)
The United Kingdom's Food and Agriculture Organisation estimates that 80 per cent of the world's major fisheries are fully exploited, overexploited or depleted. Seabirds are also suffering unsustainable losses.

Dynamite - Cyanide Poisoning
See our Endangered Reefs page in our Coral Communities section regarding illegal fishing ("dirty" fishing) practices, such as poisoning reefs and using dynamite to kill and stun fish.

Fishing Methods: Types described: Beam trawl, Demersal otter trawl, Multi-rig trawl, Dive-caught, Dredging, Drift net, Fish attraction devices, Fish farming, Gill or fixed nets, Handline, Jigging, Trolling, Hand-gathering / picking / collection, Harpoon, Hydraulic dredges, Industrial fishing, Long-lining, Pelagic trawl, Pole and line, Pots / creels, Purse seining, Seine netting, Trap / nets, Use of explosives or poisons. (described by Marine Conservation Society's FishOnline.org)

"Dirty" fishing and overfishing are unsustainable!


Dead oiled sea otter


USFWS
click to enlarge

Hard Aground
Disaster in Prince William Sound
10 years of stories, photos and
reference material from
Anchorage Daily News
Image Gallery

"It is unlikely that the Persian Gulf waters will return to normal in this century."
(Oceanography from the Space Shuttle)

Image gallery
of the world's worst oil spills
National Oceanic and Atmospheric Administration

OIL SPILLS

THE WORST OIL SPILL IN U.S. HISTORY
In 1989 the Exxon Valdez ran aground and dumped 11 million gallons of oil into Prince William Sound in Alaska. That is approximately equal to 125 olympic-sized swimming pools full of oil. Although this spill is not considered one of the worst that ever occurred worldwide, it is considered the number one spill worldwide in terms of the environmental damage that took place. (Exxon Valdez Oil Spill Trustee Council)

ENVIRONMENTAL CRISIS IN THE GALÁPAGOS
The Galápagos Islands are situated about 600 miles off the coast of Ecuador, South America. Once known as the Enchanted Isles, the Galápagos contains plants and animals so unique they cannot be found anywhere else on Earth.
In January 2001 nearly 200,000 gallons of oil spilled out of an oil tanker that ran aground and split open - due to an error in human judgment.

Bad Tidings in Paradise (Time.com photo essay)

A major source of ocean pollution is from oil. Oil spills and leaks come from oil tankers, oil wells, runoff from land spills and leaks into rivers and underground watersheds from industry, oil refineries and storage facilities; and believe it or not, from deliberate oil pollution such as the deliberate release of 465 million gallons of oil into the Persian Gulf by Iraq during the Persian Gulf War in 1991. Some oil spills are accidental, but it's not accidental when they come from rusted-out gasoline tanks and inadequate old oil tankers or from careless and uncaring humans.

Oil coats the ocean surface, seabirds, fish, and marine mammals. It washes onshore and destroys shoreline habitat. Vast numbers of plants and animals die, and entire fishing industries have been destroyed. Coastal communities suffer economic damage. Oil damage cleanup costs run into the millions of dollars. Recovery takes years, and some areas will never recover fully. The greatest loss is to the environment and life forms. Since the devastating and widespread Exxon/Valdez spill, improved ship hull designs and additional safety procedures have been implemented for oil-carrying vessels.


Oil dispersing out into ocean
Courtesy of the Great Barrier
Reef Marine Park Authority