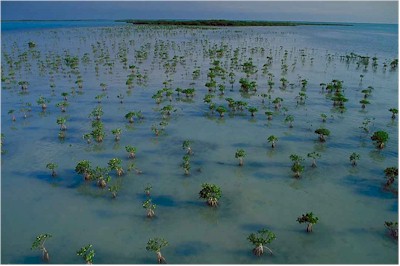 Mangrove Replanting Replenishment in Florida Bay
Credit: South Florida Water Management District
THE EVERGLADES - AN ECOSYSTEM IN PERIL
Once a vast, free-flowing river of grass, with sloughs, marshes, cypress swamps, lagoons and bays, the Everglades was home to thousands of species (both resident wildlife and migrating visitors). This wetland ecosystem once covered 4,000 square miles and is now reduced to half that size. The waters in these wetlands have been diverted, drained, dammed and polluted. The consequences of this type of human intervention have been dire. Water flowing through the ecosystem has been reduced by approximately 70 percent, and Lake Okeechobee (the second largest freshwater lake that is situated wholly in the U.S.) is seriously threatened. Salt water has intruded farther inland where slow-moving water from swamps once held it back. Fresh-water wells have become salty. Functions once performed by the wetlands, such as filtering and retaining water to maintain a healthy diverse wetland environment for species, have been lost as the Everglades has become polluted and shrunken in size. "A number of plants and animals that live in south Florida and the Everglades are in danger of becoming extinct because their habitat has been damaged, reduced or eliminated."
Everglades Restoration Plan - the largest restoration plan on Earth!
The U.S. is now planning to spend billions of dollars to try and restore the intricate balance of the Florida Everglades ecosystem. Comprehensive plans have been designed to revitalize the ecosystem to a healthy and sustainable state that will enable these wetlands to once again support vast numbers of wildlife and nursery grounds for marine life, while maintaining flood protection, and providing future fresh water supplies for the people and farms of the south Florida region. It is estimated the full project will take 20-30 years to restore the Everglades.
The Everglades - Yesterday and Today
Looking back on the giant marsh of the past which encompassed the greater part of southern Florida, to a time when daylight was almost obscured by thousands of birds in flight, and great numbers of unique and diverse species found food and shelter provided by this huge ecosystem - we are now shocked and dismayed at the deterioration that has occurred due to human expansion into this natural wildlife habitat. This is the Everglades of today - an eco-system in peril.
In order to try and undo the detrimental effects humans have had on the Everglades, and restore the wetlands as much as possible, we need to understand the workings of the original system and incorporate the science and technology of today into a comprehensive plan for the future.
The South Florida Water Management District, working with other state and federal agencies, has developed programs that focus on "sound management based on strong science and data." Information and data is provided on their website, including: Watershed Management, Hydrology, Nutrients, Vegetation, Wildlife, and Restoration - pertaining to the specifics of the Everglades, Florida Bay and the Entire Ecosystem. Click into Long-Term Plan to learn about the Everglades of Tomorrow.
(Provided by the South Florida Water Management District)
The Living Everglades - One of Earth's great natural ecosystems
During wet seasons and dry seasons, the Everglades has functioned like a living giant sponge - that expanded in the rainy season from drinking in the waters, and shrinking again as it dispersed liquid life support to a huge ecosystem full of plants and animals. These marshy waters would move slowly over the southern Florida peninsula on their way to the ocean, while unfolding liquid fingers of life-giving waters east and west. Imagine the spongy soils as living lungs that function on water rather than air. In and out, in and out, this ancient natural cycle ebbed and flowed over a very, very long time in Earth's history, allowing a great diversity of species to flourish.
As more and more people moved to Florida, the needs of humans took precedence over the needs of wildlife and the natural environment. As human development increased, the wetlands decreased, and the magnificent natural process began losing its ability to provide life support services to the once-massive numbers of wildlife; species that not only inhabit the U.S., but migrate south and north from pole to pole.
The Living Everglades website is designed to provide citizens, scientists, teachers, and students access to a vast amount of information and data about the Florida Everglades. Maps, Topography, Info and links to historical information, Geology, Habitats, Wildlife, Water Resources, Weather, Links, FAQs, Search function, and a page of links to glossaries. Take a virtual tour, query data. Educational resources are provided for teachers and students, with curriculum, lesson plans, fun activities, The Living Everglades for K-12, and The Everglades - An American Treasure.
(Provided by the South Florida Water Management District)
What we can do to help the Everglades - Information is provided on this site for residents of Florida, and for the many people who visit and travel to Florida, regarding protecting and conserving precious water resources. Learn what activities to avoid that may cause environmental contamination. There are things we do that may seem harmless, but they may set in motion other actions that cause pollutants to be carried to water resources. These helpful tips are good to practice no matter where we live or visit. Water is a shared resource - and we all should share in protecting it.
Marjory Stoneman Douglas - Defender of the Everglades
Friends of the Everglades
The Everglades Ecosystem - Everglades National Park
Everglades 101: An Introduction to the Ecosystem, Everglades Habitats, Species Checklist (birds, mammals, plants, reptiles and amphibians, threatened and endangered species), Animal Profiles, Geology, Species, articles, teacher resources, links. (National Park Service educational site)
The Journey to Restore America's Everglades
Official site of the Comprehensive Everglades Restoration Plan (CERP)
Read a Brief History of the Everglades and why it is important to restore them. Learn all about the plants and animals that depend on this wetlands ecosystem.
Educator resources: Teach with technology by flying through the Everglades using satellite imagery. Free download, including Teacher Guide and lesson plans.
Everglades Restoration - Audubon of Florida
Florida Everglades Photo Gallery - Vermont Institute of Natural Science (VINS)
VINS emphasizes education as the way to change attitudes and maintain a healthy environment.
See pictures of Florida's endangered Manatee and Florida Panther on our
Eco-Pros Endangered Species page - and a link to information and a photo of the Florida Bog Frog (which is a very rare species of frog found in only a small area of western Florida.)