ECO-PROS
Environmental Education on the Web
WETLANDS RESOURCES

"Sunrise Over the Everglades"
Courtesy of NOAA. Photographer: Richard Frear

Also see links to online resources related to wetlands on our other Wetlands pages,
specifically regarding Types of Wetlands, Wetlands Loss, and Wetlands Recovery.
Wetlands Systems and Subsystems Classifications - Wetlands Education System (Purdue Univ)
Click into each of the 5 classifications of wetlands:
Marine, Estuarine, Lacustrine, Riverine and Palustrine.
Within each classification you will find underlined hyperlinks to descriptions of typical examples of those types of wetlands.
Fresh Water Ecosystems from the Missouri Botanical Gardens
An Introduction to Estuaries from the National Estuarine Research Reserve System
Estuaries - endangered ecosystems! Estuaries are partially enclosed bodies of water formed where freshwater from rivers flows into the ocean and mixes with salt water. Many different habitat types are found in and around estuaries. Estuaries are among the most organic productive environments on earth, supporting a wonderful abundance of plants and animals.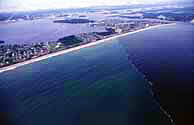 Inlet where salt water meets fresh water
Notice the difference in the colors of the water
Credit: South Florida Water Management District
Wetland Kids - Allow time for photos of wetlands to load on various pages
Sections: What is a Wetland?, What Wetlands Do For You, What Can You Do!, Find a Wetland Near You, Did You Know, Wetland Words, Activities, Links
Wetlands Education System Graphics (Purdue University)
Pictures showing aquatic plantlife in various types of wetlands
Wetlands (Environmental Protection Agency)
"To encourage and enable others to act effectively in protecting and restoring the nation's wetlands and associated ecosystems." Site has information on wetland planning, management, and pollution prevention; facts about monitoring wetlands; information resources, facts, laws, and a hotline.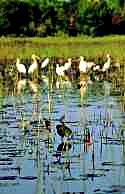 Wetlands life support system
Credit: South Florida Water Management District
America's Wetlands (Environmental Protection Agency)
Learn about America's rich variety of wetlands, their importance, how they are threatened, and what can be done to conserve them for future generations.
What's a wetland anyway, and why are they so important to protect? (Audubon)
Duke University Wetland Center
Take the Everglades Field Trip and read how the increasing human population has affected the Everglades ecosystem for more than 100 years. Also review the Wetland Links page for resources around the world.
The Pantanal (Waterland Research Institute)
Earth's largest freshwater wetland system, The Pantanal, is one of the most pristine and biologically rich environments on the planet.
The Time to Save the Pantanal is Now (Conservation International)
Located at the crossroads of Bolivia, Brazil, and Paraguay, south of the Amazon basin, The Pantanal has already lost a staggering 17 percent of its original vegetation. Conservation International warns this immense wetland system may disappear by 2050.
Center for Aquatic and Invasive Plants and the Aquatic, Wetland and Invasive Plant Information Retrieval System (APIRS) - From the University of Florida. The world's largest database information resource of its kind, images of aquatic birds, animals, and plants, aquarium/water garden resource guide, links to relevant web sites.
Invasive plants are plants that are not natural to the area as they have come from other ecosystems. The invading plants disrupt the natural habitat and can cause great harm to native plants and animals. Read about the Invasive Nonindigenous Plants of Florida and find out why they are harmful to Florida's forests and wetlands.
Aquatic Environments of Canada
Habitats, Animals, and Plants of Lakes, Ocean, Rivers and Wetlands

Discover Canada's Wetlands
Information on just about every aspect of wetlands.
National Wetlands Inventory Center
Information about the characteristics, extent and status of the Nation's wetlands and deepwater habitats. Wetland curriculum guides, kids pages, and links to other related resource sites.
Wetlands Mapper - See a map of wetlands near you.
Just for Kids - Shorebirds and Wetlands
(U.S. Fish and Wildlife Service)
Wetlands in the Great Lakes Region
California Wetlands Information System
State and Federal information is provided on wetlands ecosystems
California Environmental Resources Evaluation System (CERES)
Wetlands Across Australia
LaCoast - Louisiana coastal and wetlands information
Approximately 40 percent of the coastal wetlands of the lower 48 states is located in Louisiana. This fragile environment is disappearing at an alarming rate. Louisiana loses one acre of land every 35 minutes! The "Hurricane Information Center" section contains photos, scientific data, reports, and downloadable posters pertaining to the Katrina and Rita hurricanes that have done so much damage.
Click on "Geography" for a clickable map of Louisiana's coastal wetlands. Click on each one for specific information. The "Education" section offers free publications, brochures, teacher's guides, and CD-ROMs. See what the status is on restoration projects
Prairie Wetlands are Important for Carbon Storage
(Northern Prairie Wildlife Research Center)
National Wetlands Conservation Alliance
Links to resources
Wetlands and Clean Water
Reports, fact sheets, current news and resource links
Sierra Club's Wetlands Restoration Program
Learn more about Flamingos from Sea World
(move through their links at bottom of their pages)
Society of Wetland Scientists - List of links to wetland related websites
Lost Wetlands - Resource links to wetlands information
Estuaries - From the National Institute of Water and Atmospheric Research - New Zealand
(wait for page to fully load)
Estuaries are one of the most productive ecosystems on Earth. See illustrations of different types of estuaries. Read about how estuaries are formed, nutrient recycling, the estuarine food web, and the ecological value of these unique habitats.
Lawrence Elementary School Wetland Project and Outdoor Classroom (No. Battleford, Canada)
Millions of birds that migrate thousands of miles must have wetlands along the way to provide them with the energy sources they need to continue their migration.

It looks like our Canada Goose has found what he was searching for -

a wetland!

USFWS
Migratory Bird Flyways


USFWS/Dick Bailey
Alligator


USFWS/Randy Lennon
American Beaver

Click on these images for a closer view, but don't disturb the residents!
More wetland photo links are on our main Photos page and below.

WETLANDS ACTIVITIES:
Find wetlands on maps. Look up information on different kinds of wetlands.
Are they saltwater, freshwater or a mixture of both?
Are there dry periods and flood periods, or is there water yearlong?
What kind of plant life inhabits the different wetlands and their surrounding areas?
What animals are dependent upon the different wetlands?
Do people live near the wetlands? Do they live in harmony with the natural ecosystems?
What is being done to preserve our wetlands?
Is anything being done locally that you and your family could help out on?
Remember that question on our Third from the Sun page?
"How should wetlands be changed to make them more useful?"
Now that you have learned more about wetlands and their ecosystems, you probably feel as we do:

The issues related to Wetlands and land use are very complex, but we are understanding more and more about their crucial functions in our global ecosystem
and beginning to restore and enhance wetlands instead of destroying them.
Wetlands should remain in their natural state in support of plants and animals,
and to provide the many crucial functions that benefit the environment and humanity. Wetland habitats need to be restored, and not changed, converted or destroyed. Wetlands are natural resources that must be preserved, enhanced and protected.
NOTE: Permits are required to make changes to wetlands. Unlawful destruction of wetlands violate the Clean Water Act. See report on first judicial case on unlawful destruction of wetlands settled in federal court.
Capitol Reports (2/2/00)
WETLANDS AND WATERWAYS ISSUES IN THE NEWS

"COURT TAKES UP LANDMARK WETLANDS CASE"
(Associated Press article on Yahoo! News, Oct 11, 2005)
"The Supreme Court set the stage Tuesday for what could be a landmark ruling on government authority to regulate wetlands and control pollution, giving new Chief Justice John Roberts his first chance to limit federal regulation of property rights."
FARMING ACTIVITIES SUBJECT TO ENVIRONMENTAL REGULATIONS

A California rancher has been fined $1.5 million civil fine for deep plowing drainages and a vernal pool. Court found that deep plowing, also called deep ripping, "can constitute a point source of pollution within the framework of the Clean Water Act." The rancher has been given the option of paying the full fine or paying $500,000 and restoring four acres of wetlands.

Sacramento Bee (By Denny Walsh, Bee Staff Writer 8/16/01)
ONE OF WORLD'S RICHEST WILDLIFE HABITATS IN JEOPARDY
The Pantanal wetlands region in southwest Brazil is the largest wetland in the world. It is an enormous freshwater ecosystem already at risk from intensive development, pollution and siltation. Now an even greater threat looms from a proposed project to straighten curves and dredge channels of the Pantanal's rivers for deep-water navigation, which will change the natural water flow and accelerate drainage of the wetlands. We need only think of what has happened to the Everglades from human re-engineering of nature, to foresee what disastrous environmental consequences (for both humans and wildlife) come from misguided "re-plumbing" of natural wetlands.
CNN (3/5/01)

Conservation International
The Pantanal Expedition (involved 30 scientists from 5 different disciplines)
AquaRAP - rapid assessment of priority sites around the world
Major threats to the Pantanal and conservation recommendations
The Nature Conservancy - Basic facts and threats to the Pantanal
Picture of the Pantanal wetlands
ENVIRONMENTAL ETHICS AND GOVERNMENT ACCOUNTABILITY
Jeff Ruch, executive director of PEER, talks about freedom of speech and the integrity of public agencies and their employees charged with the responsible management of America's public resources and the protection of the environment.
Grist Magazine (12/12/00)
PEER (Public Employees for Environmental Responsibility)
Protecting government employees who are protecting our environment against exploitation and pollution of our environment.
"Pentagon Rebukes Army Corps"
Manipulation and bias cited in investigative report.

Washington Post (12/7/00)
Redemption at hand...
"The Everglades restoration bill provides a great opportunity to turn the Army Corps
of Engineers from a force at war with nature to an ally in restoring it." "We've committed to correcting some of the worst environmental mistakes of our past and to shaping a future where the needs of people and nature coincide." - Mark Van Putten, President/CEO National Wildlife Federation.
NWF
(11/3/00)
More on the Corps...
"We were outraged to discover the Corps' willingness to skirt the law for a
scientifically-flawed proposal"
"A series of recent articles by the Washington Post demonstrates that this sort of complicity
on the part of the U.S. Army Corps of Engineers is a regular occurrence in some regions of
the country. This behavior is not what Congress intended when environmental laws were
passed, and we intend to make sure this practice is stopped,"

ENN (10/5/00)
Special Report on U.S. Army Corps of Engineers (Washington Post)
Links to five-part series below. Many other links to articles and information surrounding allegations and controversies are contained within the various articles.
Proposal blocked to force the Corps to adopt higher environmental standards.
Washington Post (9/22/00)
Click on the lily pad walker to go to the Third from the Sun page
or visit one of the links below