LEARN MORE ABOUT CORAL AND CORAL REEF ECOSYSTEMS
A Guide to Protecting Coral Reefs (Environmental Defense)
Overview of the development, functions, interactions, requirements and biological diversity of coral reef ecosystems.
Sections: Reef Structure and Distribution, Ecological Functions of Coral Reefs, Interactions With Other Ecosystems, Requirements for Coral Reef Ecological Integrity, Biological Diversity in Coral Reefs.
Coral Reef Ecosystems List of Links
Coral Reef Network - Aloha from Hawai`i
"One of the most fundamental problems in coral reef conservation
centers around the lack of science education."
Website includes information and photos pertaining to marine life (seaweeds, invertebrates, fishes),
education (articles, curriculum, dynamic slide shows), reef ecology and research.
Coral Reefs and the Crown-of-Thorns Starfish
The crown-of-thorns starfish is a specialist coral feeder, and can cause much destruction to coral reefs. When feeding, it forces its stomach out of its mouth to envelope the irregular formations of the coral. Crown-of-thorns starfish can multiply into tremendous numbers in what is known as an outbreak. It could take 12-15 years for coral cover to return after a massive invasion by a large number of crown-of-thorns starfish. Replacement of slower-growing species could take 500 years. Read more about this unique marine animal.

Crown-of-Thorns Starfish
feed on coral


Moorings and anchors drag through
coral and destroy habitat and species


Photographs courtesy of the Great Barrier Reef Marine Park Authority
Coral Reefs of South Florida (Florida Museum of Natural History)
Corals, Coral Species Profiles, Habitat Requirements, Geographical Distribution, Reef Communities, Coral Diseases, Importance of Coral Reefs, Impacts.
Global Coral Reef Alliance

National Oceanic and Atmospheric Administration (NOAA)

NOAA's Coral Reefs Online
Ocean Planet - Bad Sports and Tourist Traps
Tourists and water sports fans leave damage in their wake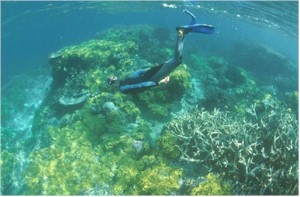 Diver is careful not to touch fragile coral reef
Scuba divers and boaters who care about the environment are very careful
not to damage the coral or remove it. Even touching coral in some areas is against the law.
Planetary Coral Reef Foundation
ReefEd - Australia's Great Barrier Reef - One of the greatest natural wonders on Earth!
Explore the wonders of Australia's most precious reef ecosystem, The Great Barrier Reef.
The reef is a complex ecosystem; more than just coral and fish. Site includes photo gallery.
GBR Explorer - click into alphabetical list to bring up comprehensive list of categories
of major groups of plants and animals that live on and around the Great Barrier Reef.
Reef Education Network - Life and Times, Ask a Brain Coral, Problems and Solutions, Research Hut, Who's Who, Activities, Notebook. (University of Queensland, Australia)
Reef Environmental Education Foundation (REEF)
Seaphotos (more photos available on our Photos Page)

The Coral Reef Alliance
Thumbnail picture gallery (Philippine coral reef life) - click picture for description

United Nations Environment Programme - Coral Reef Unit
Click into Coral Etiquette below to read about proper rules to follow in coral environments.