10 percent of the world's coral reefs are degraded beyond recovery.
(federal task force study)
2/3rds of the world's coral reef systems are being damaged,
58 percent by human activities.
(National Oceanic and Atmospheric Administration)
There are many stresses to coral reefs, both from natural causes and human activities.
- Coastal development
- Destructive fishing methods (overfishing, trawling, dynamite, poison)
- Pollution
- Activities that muddy the water and smother coral with sediment
- Coral mining and ornamental fish and shell collectors (aquarium fish collectors)
- Careless and harmful human behavior (reef-hopping, manhandling, boat anchors)
- Global warming, changing climates, storms and other natural events
- Tourism and tourism development
- Crown-of-Thorns starfish invasions
Global warming is responsible for the destruction and severe degradation of a quarter of the world's coral reefs. Extreme climate changes are causing higher water temperatures. This causes algae living within coral to be expelled, which brings about coral bleaching and death to living polyps. Even a one-degree change can affect the survival of a reef. Outbreaks of Crown-of-Thorns starfish have damaged some coral reefs severely. Construction and logging can cause soil erosion which washes sediment down rivers and waterways into the ocean. This muddies the waters and prevents sunlight from reaching the coral.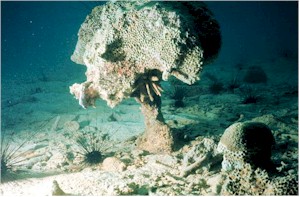 Dead coral and death of an ecosystem
Besides massive pollution, the harmful effects of global warming, Crown-of-Thorns starfish invasions, and other environmentally damaging human activities; many harmful methods are being used by humans to capture tropical species and coral to sell worldwide, mostly for home aquariums. Camouflage cannot help, nor can all the nooks and crannies in the coral offer protection as hiding spots, as you will see when you read the following:

DANGER IN THE REEF - NO PLACE TO HIDE
TRAWLING - Indiscriminate and large-scale seabed devastation is brought about by trawling, where the sea bottom is completely leveled by heavy steel, chains and nets dragged by fishing trawlers. Coral, plants and animals are all scraped up into huge nets, leaving the ocean habitat below destroyed. It is estimated that 25 billion animals caught in these nets each year are thrown back into the sea as garbage because they can't be sold. It takes centuries for a coral reef to develop and a few minutes to destroy it by trawling!
See pictures of the devastation caused by trawlers CNN (2/15/02)
Read more about trawling and other harmful human behavior on our Human Impacts on Oceans page.
For more information, see: Scraping the Seabed Raw (ABC News Report)
DYNAMITE - To stun the fish and bring them out of hiding, dynamite is exploded near the reef. This temporarily paralyzes hundreds of tropical fish and other species so the collectors can gather up huge amounts quickly. The concussion from the explosion kills many species. It takes centuries for a coral reef to develop and an instant for an explosion to destroy it!
CYANIDE POISONING - Another damaging and illegal hunting method is the use of cyanide poisoning. The hunter squirts the cyanide in and around the coral to temporarily immobilize sealife so they can be caught. But the poison floats around and kills a great amount of smaller fish and also the coral animals.
For more information, see: New Threat to Coral Reefs: Hobbyists (MSNBC News Report)
U.S. Port Authorities inspectors are testing imported fish for cyanide poisoning. Most aquarium fish come from the Philippines and Indonesia. There are very loose laws in poorer countries for the protection of coral ecosystems. It is estimated that of tropical fish harvested, only one out of every ten survive.