Scorecard
Find out what pollutants are being released into your community - and who is responsible.
(Environmental Defense)
Beyond Pesticides
Fact sheets on pesticides, information on alternatives and safety tips.
State of the Air 2005 Report (American Lung Association) - Scroll down page for report
Information on Clean Air Standards, indoor and outdoor air quality, diseases and treatment,
and support to help people quit smoking.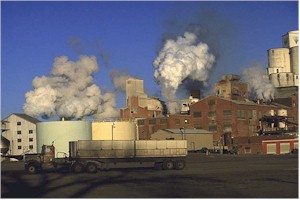 Environmental Protection Agency - Concerned Citizens Resources
"Startling study on toxins' harm" (Seattle Post-Intelligencer, 6-3-05)
Washington State University findings show that disorders can be passed on without genetic mutations.
"If a pregnant woman is exposed to a pesticide at the wrong time, the study suggests, her children, grandchildren and the rest of her descendants could inherit the damage and diseases caused by the toxin -- even if it doesn't involve a genetic mutation."
Dr. Michael Skinner, Director of the Center for Reproductive Biology at Washington State University, explains this does not cause a change in the DNA sequence, but a chemical modification of the DNA. This type of change is classified as an epigenetic change.
Trade Secrets Exposť (A Moyers Report/PBS)
An "investigation of the history of the chemical revolution and the companies that drove it – and
how companies worked to withhold vital information about the risks from workers, the government, and the public." "Regarding accuracy, every fact in TRADE SECRETS has been scrupulously sourced."