Earth's natural resources need to stay healthy too!
WATER
To clean the atmosphere and the environment,
and to nourish plants and animals
SOIL
To filter the water, provide nourishment for plants and some animals,
and recycle material to be used again
PLANTS AND TREES
To absorb carbon from the atmosphere and release oxygen.
To supply food and medicine, and provide shelter for plants and animals
ATMOSPHERE
Air surrounding the planet containing
nitrogen, oxygen, water vapor, other gases, and many tiny particles

To protect life on the planet, shielding it from harmful radiation from the sun.
To provide a blanket of warmth around the planet
The atmosphere is being damaged by carbon dioxide overload,
so more harmful radiation is reaching us on Earth -
and the blanket of warmth is getting warmer!
What happens when pollution gets in Earth's natural resources?
They become impure and poisonous,
and then plants and animals get sick.
| | | |
| --- | --- | --- |
| | | |

Toxics and pollution harm the Earth's environments,
just like they harm our bodies.
The Earth's doctors are the Earth Scientists.
They investigated the environments' illnesses
and said:

POLLUTION OF AIR, WATERS AND SOIL
CLEAR-CUTTING FORESTS
DUMPING TOXIC WASTE
CUTTING OLD-GROWTH TREES
HARMFUL FISHING METHODS
DEPLETING AND WASTING NATURAL RESOURCES
DESTRUCTION OF OZONE LAYER
DESTRUCTION OF BIOLOGICAL DIVERSITY
EXTINCTION OF SPECIES

REMEMBER TO
REDUCE - REUSE - RECYCLE



AND SAVE ENERGY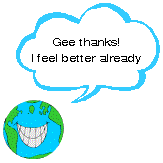 IS THE SUN A RENEWABLE RESOURCE?


We received this question from a student who presents a very good point for debate on the subject.
"Hi, I am doing a paper on non-renewable and renewable resources.
All the information I have found says that the sun is a renewable resource. I disagree with this because in science class we learned that the sun is a star. Therefore, it has a lifespan. That is why it can explode! So if it can explode and not be able to be used again, how can it be a renewable resource?"
Click here to read more about this "hot" topic

All of our natural resources are essential
in helping to keep the Earth's natural processes in balance
in order to provide a life-sustaining environment.
Now that you have absorbed all that information,
we're going to take a trip around our planet
and give it a health checkup.
We'll do some investigation, like doctors and scientists do,
and look at the Earth's environments and the plants and animals.
On this trip you will go exploring, join in activities,
and do science projects


while you learn about plants, animals,
our Earth, and the universe.

You will meet people who are helping save the natural environment.
Are you ready to go on our exciting journey?

This cheetah wants to take you there.
Click on him and set him free.