The Rotten Truth
(About Garbage)

What can your family do to make less garbage? Are you being careful not to buy products that are made of harmful materials that will someday be contaminating the Earth after you dispose of them? Do you seriously consider not buying products that have excessive packaging material just to make them look bigger or fancier? Do you make the effort to recycle everything you can?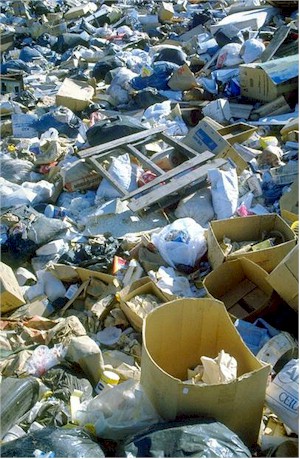 Consumer Culture
This website has some great ideas for reducing and recycling the waste we create. Read about people who have really made a difference by decreasing waste pollution. Conduct a Trash Audit in your home and see how your family can reduce the amount of waste produced each week. Ask about starting a project at your school or in your community. This website has detailed plans to help you with your projects.
America Recycles Day - November 15
Does your school, office, church, and community have environmentally-friendly programs in place? If not, this site will give you some terrific ideas on how you can help start a program for the environment - and save our natural resources, energy, clean air and water, landfill space, and money. Did you know a recycling symbol on a product doesn't always mean the product is made from recycled materials, or that it can be recycled? It may just be a reminder. Learn how to read the symbols and labels.
Pledge your support (make a commitment to yourself) to recycle and buy recycled and be entered in contests for some great prizes. And don't forget to keep your commitment!
Recycling Guide
Here is a helpful guide to recycling. More info is available at the bottom of the guide. You can make copies of this helpful guide list and give to family and friends. If you don't have recycling containers, call your local refuse collection companies or your city or county administration offices and request them. If they don't provide them, you can make or buy portable containers for recyclables, and find out where your nearest collection spot is. In doing this, you will be preserving our natural resources, protecting our habitats, and saving wildlife.
Start a Recyling Program!
Start a waste reduction program in your school, community, home, or work place. Here are sites which offer great ideas and resources for recycling and buying recycled products. Read how other companies and organizations made it happen.
Environmental Protection Agency (EPA) Wastewise Program