| | | |
| --- | --- | --- |
| | Earth | |
WEATHER


Global warming and
extreme weather causing glaciers to melt, climate changes, rising sea levels, coastal damage, floods, crop failures.

ATMOSPHERE

Polluted air
Hole in ozone layer
Acid rain
Greenhouse gas buildup

WATER

Polluted water causing
loss of species in rivers,
watersheds, and oceans.
Loss of wetlands, groundwater,
dwindling supplies of
fresh water worldwide.

PLANTS

Loss of oxygen producers:
green one-celled plants,
seaweed of the oceans,
green plants and trees of
the forests and fields --- from:
Destruction of open space
Destruction of ecosystems
Urban sprawl
Pollution of waters
Pollution of air
Spread of non-native species




LAND

Poor land use decisions:
Clearcutting forests, draining wetlands, development along coastlines and fresh water sources, fragmentation of habitat.
The smothering and destruction of natural habitat from development.

FORESTS

Deforestation (mass logging) :
Less carbon dioxide removed from air
Less oxygen produced
Loss of animal habitat
Soil erosion - floods
Loss of plant and animal species

DEFORESTATION



SPECIES LOSS

Destruction of ocean floor, forests, coral reefs, habitat, wilderness, open space.
Pollution of ocean, rivers, watersheds.
Overharvesting of species
Pollution of air
Destruction of ecosystems
Loss of biodiversity

What factor can be found in each environmental problem listed above?

HUMANS


MESSAGE FROM EARTH:
HELP!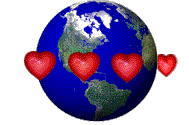 Have a heart (click one) and follow along with us
as we take you on an environmental journey.
Or take a look at the website links below
and plan your own trip through Eco-Pros
and the Environment of Planet Earth.


The links below will take you on an environmental journey through Eco-Pros to explore the earth sciences and the wonders of nature. Learn how natural resources, biodiversity of plants and animals, ecosystems on land and in our waters, and the cycles of Earth's natural systems help support life on our planet.
Images: Did you hold your computer mouse over the images?
Go back up to the top of the page and try it - they will tell you something.