Eco-Pros
Environmental Education on the Web
BELCHING BOVINES
METHANE MENACE

Methane emissions from livestock contribute significantly to greenhouse gases.
Methane is 25 times more potent than carbon dioxide in contributing to global warming.


Facts:
Animals fed on poor meal (common in warm climates), generate a lot more gas
(and produce less meat and milk).
Cows produce about one pound of methane for every two pounds of meat they yield.
An average cow burps about 280 liters of methane daily.
Findings:
"A burping cow is a polluting cow."
Solution:
How about a nice veggie burger?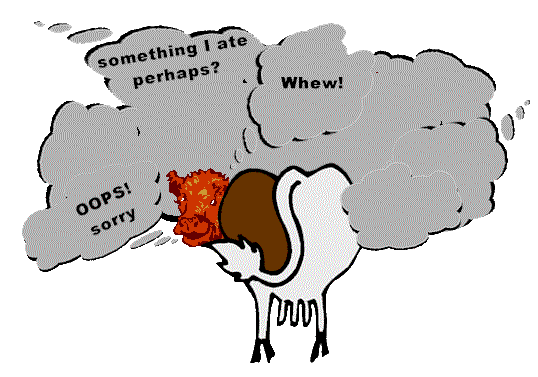 "Accumulation of methane in the Earth's atmosphere has nearly doubled around the globe over the past 200 years. Scientists believe that rising concentrations of this "greenhouse gas," which absorbs and sends infrared radiation to the Earth, are causing changes in the climate and contributing to global warming." Livestock animals naturally produce methane as part of their digestive process, belching it while chewing cud and excreting it in their waste. Read about some of the harmful effects of raising livestock.
EMagazine - Home of E/The Environmental Magazine (Week of 1/8/06) - Scroll down to 2nd question and answer.
Researcher measures the gases cows emit
MSNBC (7/28/05)
CNN (7/21/00)
Find out more about methane gas on our Global Warming resources page.