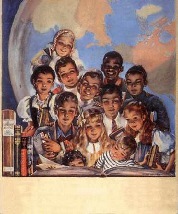 Statements from the United Nations Environment Programme and other youth conferences show that young people everywhere want more environmental education and more involvement in decision-making.
Online books
Pachamama - Our Earth Our Future
Issues related to the global environment
written by Young People of the World
Introduction for young people to environmental challenges we face. It describes both the state of the world's environment and what action governments, and young people, are taking to address the problems. Drawn from the contributions of thousands of young people around the world, the book includes personal accounts, poems, illustrations, and a fold-out EcoMind Maze game to test the reader's new knowledge in a fun and informative way.
Contents: Atmosphere, Freshwater, Marine and Coastal Areas, Land and Food, Forests, Biodiversity, Urbanisation, Polar Regions, Our Future, What You Can Do, EcoMind Maze, and How Green Are You?
Contents: The Global Environment, The Global Economy, The Role of Communities, Organizing for Community Action, The Community Toolbox, Population and Consumption, Energy, Waste, The Atmosphere, Biodiversity, Freshwater Resources, Oceans and Coasts, Forests, Agriculture and Land Use, Desertification, and Glossary of Terms.
Scroll down through the chapters. Click on photographs to go to corresponding chapters.
UNEP's Executive Director, Klaus Toepfer states: " I am particularly heartened by the fact that young people are becoming more aware and vocal about environmental issues to ensure that the price they pay for our environmental misdeeds will not be too great."
From Agenda 21, Chapter 25
Children and Youth in Sustainable Development:
"It is imperative that youth from all parts of the world participate actively in all relevant levels of decision-making processes because it affects their lives today and has implications for their futures. In addition to their intellectual contribution and their ability to mobilize support, they bring unique perspectives that need to be taken into account."

Read more about involving youth in decision-making processes:

Agenda 21 - Environment and Development Agenda